For many years the annual New Zealand Wine Fair kicked off our Spring. It woke us up, after busy Christmas trading and post Christmas slumbers. As the trade hadn't seen one another for a while it became a well attended social event where the latest rounds of gossip and rumours were swapped and amplified! New Zealand Wine has been doing this with us for the past 20 years!
This year New Zealand Wine has designed an imaginative week of virtual events. The full calendar is available at New Zealand Wine HERE. It's an excellent week and promises to be fabulously informative. New Zealand. Fabulous Wines.

Monday 8th: New Release Self Pour
Instagram Live with Jamie Goode. Winemaker interview: Paul Pujol of Prophets Rock
Tuesday 9th: New Zealand Sustainability ( Harpers Webinar)
Instagram Live with Jamie Goode. Winemaker interview: Rosie Finn of Neudorf
Wednesday 10th: What's New What's Next
Instagram Live with Jamie Goode. Winemaker interview: Wilco Lam of Dry River
Thursday 11th: Pinot Noir Soils Webinar
Instagram Live with Jamie Goode. Winemaker interview: Anna Flowerday of Te Whar Ra
Friday 12th: Syrah Masterclass: Rebecca Gibb MW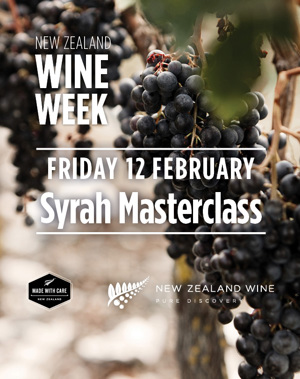 A really super duper way to get into the New Zealand groove might be to catch up with the brilliant NZ winemaker podcast interviews on our Kevin Ecock's WinePod! Here's the list:
Huia: a Unique Wine Estate in New Zealand
Stuart Dudley: Villa Maria Viticulturist and Vintage (Movie ) Star
Prophets Rock in Central Otago: a Paul Pujol Winemaker Podcast
Warren Gibson of Trinity Hill: a Hawkes Bay Podcast
A Greywacke podcast with winemaker Kevin Judd: What makes Greywacke so Brilliant
Angela Lewis of Villa Maria – New Zealand Excellence
Nautilus Wines – New Zealand Treasure
Boy, have we been busy!
Breaking News on the WinePod: Soon to come Simon Waghorn of the extraordinary Astrolabe winery!!
——————————————————————————————————————————————————
The New Zealand Wine Week begins on Monday the 8th Feb. with a 'New Release Self Pour'. Now, before we get too excited we have to take note of the difficulties associated with organising an event such as this. While we are told that activities are, 'planned across the USA, UK, Ireland and Canada' and that we are invited join New Zealand Wine for a 'wide range of programmes including tastings, discussions, and online activities' the pack of samples available to Trade and Media is not available to Ireland. Understandable enough? Yes it is. We asked and we were told that, 'the reason why samples aren't necessarily available to Ireland is that currently in Ireland, there is no facility for the small bottlings that we have in the UK.' This is true and has hampered other virtual tastings. That said, it didn't stop the likes of Santa Rita Estates plus others sending over samples from the UK!
The second reason given to Wine Ireland is that, 'Now that Brexit has occurred I imagine it will be harder to send samples over from here (UK) and given the short shelf life of these packs we do not want to risk the wines being held up by customs and then not being able to be tasted properly'.
Crazy. Brexit and samples! I have long been a critic of generic bodies marketing their wares to us from UK based offices. They all do it – Australia, Chile, Argentina, South Africa … Now they're all outside the EU. Perhaps it's time to follow the excellent work that comes out of the commercial arm of the Spanish embassy HERE in IRELAND! Then we won't find ourselves in endless rounds of Brexit this and Brexit that. Brexit Blaming is not a healthy exercise! There has been a year of transition to iron out Brexit crinkles and (unfortunately) almost a calendar year of dealing with Covid difficulties. To be fair to NZ Wine they have said they are, 'going to arrange a sample drop to some trade and media (in Ireland) depending on the support we get from producers'.
Happy New Year 2021 Everyone. We're off again.